Horizon 2020 is the biggest EU Research and Innovation programme ever with nearly €80 billion of funding available over 7 years (2014 to 2020).
Pongratz Consulting and Eurida Research Management in collaboration with EUCOPE are organizing a two-day Horizon 2020 workshop "En Route to Horizon 2020" to provide you with what you need to successfully apply for Horizon 2020 funding. To find out more and to register, please go to the Workshop Homepage:
http://www.pongratz-eurida-horizonworkshop.com/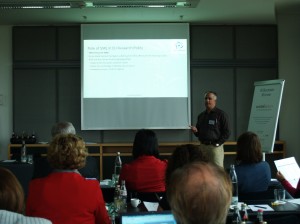 Ingemar Pongratz Presenting
Obtain Information on how to structure  applications for Horizon 2020 Research and innovation funding

Join the Pongratz Consulting-Eurida Research Management-EUCOPE training workshop "En Route to Horizon 2020"  to better understand how to structure your  funding strategies. The workshop will be organized in Brussels, February 4th-5th 2014.
We will provide comprehensive information on Horizon 2020 funding and discuss the different topics and calls recently published by the European Commission
Speakers include representatives from the European Commission DG-Research and Innovation, EUCOPE, Eurida Research and Pongratz Consulting